Aufero Laser 2
This is a personalized period. Gifts that send to others, daily necessities and even clothing accessories are pursuing personalization, which is one of the reasons why laser engraving machines have become more and more popular in the past two years. However, for more friends who plan to do some DIY designs, most of the laser engraving machines have high price and difficult installation and use thresholds,which let some people are afraid to try.
ORTUR, which has been deeply involved in the laser engraving industry for many years and has become the leader of the  industry, has discovered this phenomenon. In order to serve more novice users, ORTUR released its entry-level engraving machine sub-brand Aufero and its first model for beginners—— Aufero Laser 1 several months ago.Soon after, Aufero brought its upgraded Aufero Laser 2, which is also positioned that it can be used by novices, and the price is still friendly, starting at only $269, but this time its performance has been greatly upgraded, breaking the industry record.
The most complete introductory guide in the industry, even someone never used can get started easily
After getting the machine, novices may be confused and will have countless questions: how to install with a lot of parts and brief manuals? Where to download the engraving software? How to engrave different materials? How to set parameters? And so many other questions.... Don't worry, Aufero has The most complete introductory guide in the industry, which can help you "from beginner to master".
First of all, Aufero Laser 2 is equipped with a 71-page manual covering 10 languages. Every step, component and operation is detailed in the form of color pictures. Just follow the tutorial step by step and only cost 20 minutes to finish installing independently, which is very convenient. If you feel that the manual is also trouble, Aufero has also released detailed installation videos, and it is easier to follow the video to install.
It's not easy to be so detailed, because Aufero constantly listens to users and quickly updates and optimizes the product. After the release of Aufero Laser 1, its plug-and-play feature was widely praised, but some users reported that its manual was too brief and inconvenient to install and use. Only three months after the release of the first generation, Aufero has made the manual to the most detailed level in the industry in its second generation product, so that all novices can easily get started. From that can see its attention to the user's voice and the products.
At the same time, as a multi-functional laser engraving machine that can engrave a variety of materials, Aufero also provides video about engraving tutorials for various materials, which is very intimate.
Before you start engraving, you may still not know how to set the parameters of engraving, especially you are still inexperienced in how to set different pictures. Then the parameters of the 50 pictures provided by Aufero are very useful. You can directly refer to this parameter for setting at first . Of course, if you don't know what pictures to use to test the machine, Aufero also provides some materials for testing, all aspects have been considered for you.
If you still don't know how to use it, you can follow those solutions: 1) Please find all the documents you need at: https://ortur.tech/auferolaser2/ or https://we.tl/t-YuZWKkFWE4 2)For support inquiries, please use Ortur's Ticketing System at: https://ortur.tech/support 3) Please join the Facebook Communities to get and give: https://www.facebook.com/groups/orturusergroup/ https://www.facebook.com/groups/291604525730905 4) Assembly Video in YouTube of Aufero Official: https://www.youtube.com/channel/UC5g531FhcsljOSrK72Lwm8Q
The fastest engraving speed ever, stable, efficient and easy to use
Although Aufero Laser 2 is a model for beginners, it is not as low-profile as many entry-level models, but instead brings excellent hardware and software configuration, making it have super fast engraving speed: the ordinary engraving speed is 10000mm/min,which has reached the high-end level of the industry, which is not enough. Its maximum engraving speed even reached 15000mm/min, which directly refreshed the industry record and became the fastest laser engraving machine at present!
To have such amazing results, it is naturally inseparable from the luxurious configuration of its software and hardware. Aufero Laser 2 uses ORTUR's newest ninth-generation motherboard. Compared with the previous generation motherboard, the speed is increased by 10%, its movement is smoother and more delicate, and its engraving precision is higher. With the current industry's most advanced ORTUR 1.8 firmware version,the stable FreerTOS system and the faster ESP32 chip naturally bring the engraving speed that breaks through the industry.
At the same time, the engraving area of Aufero Laser 2 has also been upgraded to 390x390mm, which is larger than two 15-inch large-screen laptops put together, which means that you can engrave larger materials, such as whole logs, clothing and so on,which has wider applicability. In addition, Aufero Laser 2 also uses an X-axis structure with a low center of gravity, which can ensure the accuracy of engraving at extremely high engraving speed, and its XY-axis scale is also convenient for placing engraved objects.
Powerful performance, don't need to worry about compatibility and install drivers to support mainstream Win10 and Mac systems.And even Aufero will release its dedicated APP to further simplify the operation. In March, Aufero will also launch a new version of the OOC2.0 offline control screen, which can operate the engraving machine normally without a computer. It can be said to be a fast and easy-to-use benchmark.
Compatible with a variety of laser modules, multiple functions can be easily expanded
Modularity is an essential function of high-end engraving machines. It is not only convenient for novices to install the machine, but also expands more functions later. Aufero Laser 2 naturally also supports modular customization. For example, its laser module can be freely matched with ORTUR's LU2-2, LU2-4-SF, LU2-4-LF, LU2-10 (10W) to cope with multiple complex scenes.
1.Option 1-LU2-2 Laser Module:
A.Fixed focus laser module, smaller luminous cavity, smaller focal spot.
B.LU2-2 Laser Module is more suitable for engraving high-precision patterns, but the speed is not very fast, and it is not very suitable for cutting.
This laser plug featured high-precision patterns and is suitable for materials with low hardness. You can use it to engrave your favorite patterns on the phone case, engrave unique texts on bread/steak, engrave photos with wood instead of paper photos, easily complete "decoupage" paintings with paper, and make leather such as wallets, belts, etc. Print your own unique logo on the product, etc., and you can use your creativity at will.
2.Option 2-LU2-4-SF:
A.Short focus, smaller focal spot and high laser energy density.
B.While having good cutting ability, it is more suitable for engraving materials with higher hardness, such as stainless steel, and the speed is also faster.
This laser module has good cutting ability, but better engraving performance, suitable for materials with higher hardness, such as glass, stone, ceramic, stainless steel and so on. For example, you can engrave a commemorative pattern on the transparent glass to make a beautiful artwork for your friends; you can also engrave a personalized image on a small slabstone , which is also a beautiful decoration at home; If you are a shop owner, you can also engrave the logo of your own shop on small pieces of ceramics and give them to your patrons; you can even engrave your own business card information on the stainless steel sheet, making it the most unique durable stainless steel business card.
3.Option 3-LU2-4-LF:
A.Telephoto. Longer Depth of Field.
B.It has a good engraving effect and is more suitable for cutting thicker boards.
C.There is air assit, so it is not easy to have black edges, but you need to bring your own air compressor
While this laser module has a good engraving effect, the cutting effect is more perfect. You can use some beautiful wooden boards with your own personal design to cut them into artworks of different shapes; of course, in addition to wooden boards, it also supports various materials such as leather and black acrylic, it can also Cut these materials into the shape you want and engrave your design.
4.Option 4-LU2-10(10W) 
It is important to mention that this laser module has a power of 10W, which is the highest in the industry.So it is also equipped with a dual-fan cooling system. The powerful power makes it not only can be capable of general engraving work, but also can easily cut materials such as 10mm pine board. At the same time of strong power, the focus is also controlled very small (about 0.135*0.08mm), which is also capable of high-precision work.
All in all, the Aufero Laser 2 can adapt to most of your demands, you can only use your creativity and let it do with the other things
In addition, Aufero Laser 2 also supports the third-generation digital laser modules of the LU3 series, which can be modularized to expand more functions, such as the aforementioned OOC2.0 offline control panel (24V version), OE2.0 detachable protection Covers, flame detectors, emergency stop switches, etc., which are very expandable.
Four-layer safety protection system to protect the safety of novice throughout the process
For beginners, safety is also a very important part. So Aufero Laser 2 has designed a 4-fold safety protection system.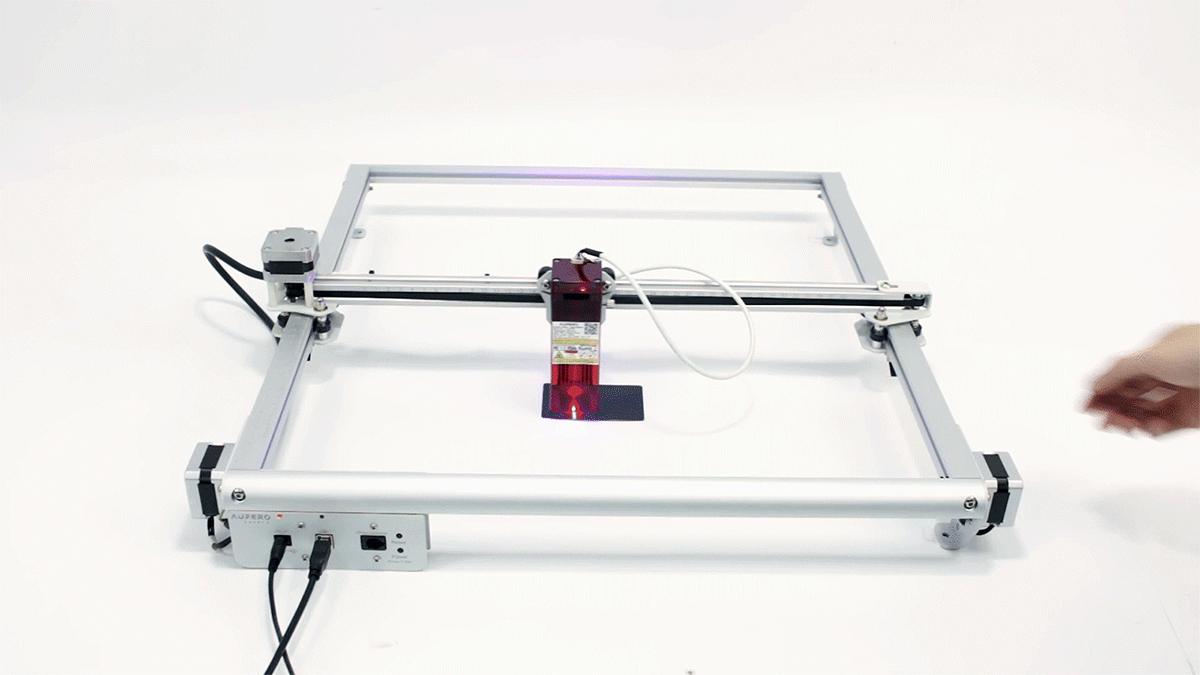 First, the Active Position Protection. When the laser engraving machine is moved horizontally/vertically, it will automatically stop the work of the laser head to protect the user. This anti-collision technology ORTUR was developed as early as 2019. Compared with the anti-collision technology that other brands just released this year, it is obviously more mature and perfect.
Second, the new function Laser Beam Safety Watchdog has been added. When there is a bug in the machine, or there is a poor USB connection between the machine and the computer, in order to prevent the laser module from going out of control and causing fire hazards, the laser watchdog will be activated to stop the laser module from outputting laser light.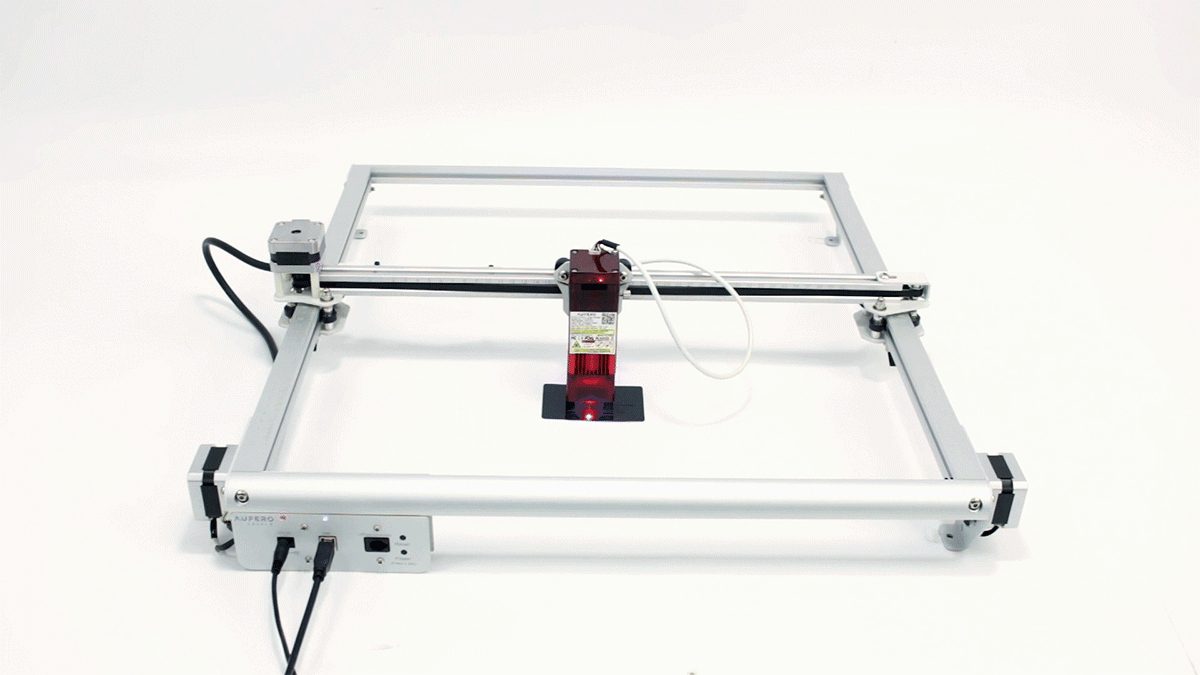 Third, set the Exposure Duration Detection and Limitation. If you go to pour a coffee or answer a phone call in the middle of debugging the laser power, if the machine is not instructed within 30 seconds, the machine will automatically stop working to prevent any possible safety hazards.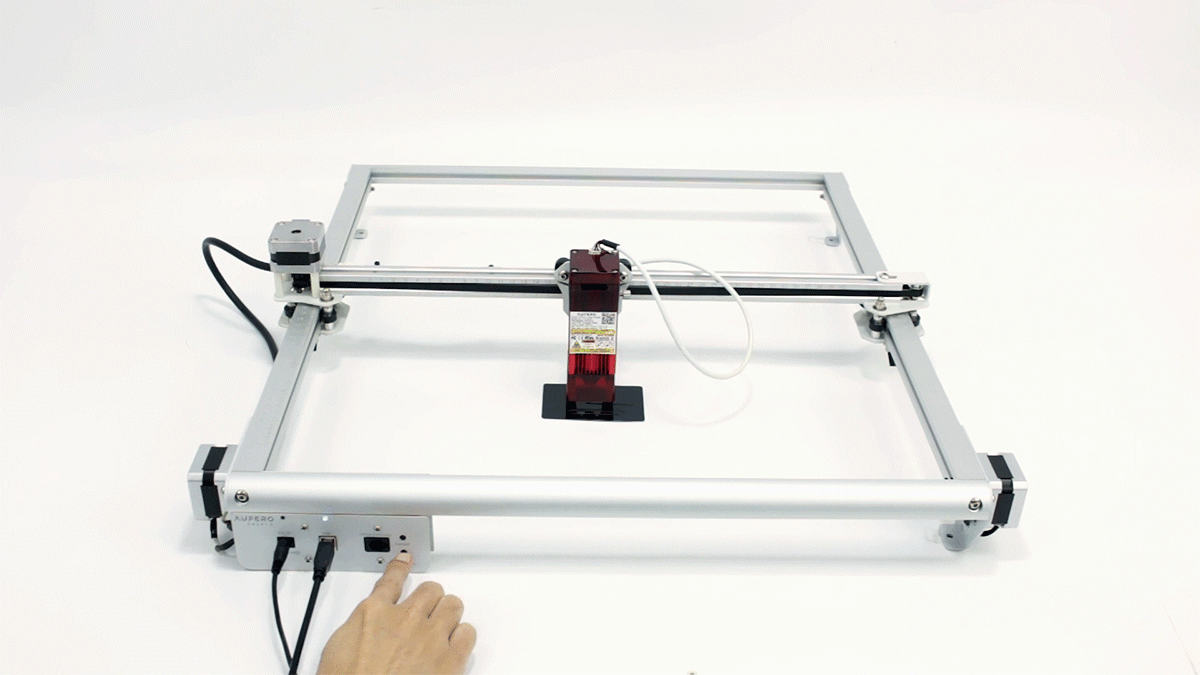 Fourth,it has a Safe Power Control System. When the engraving machine is turn off, the main board will cut off the current output to the laser module to avoid any hidden dangers that may occur. Imagine that when you are finished using it, you don't need to manually unplug it. After the machine is turned off, the power supply will automatically stop, and the laser will stop working. So, if you are an inexperienced novice, nuanced security protection design may bring you more security.
In a word, whether you are a novice who is the first time to buy an engraving machine or an experienced engraver, Aufero's complete safety protection can buy and use it with confidence.
Summary: Master-level powerful performance, the best choice for novice.
Looking at it entirely, you will find that Aufero Laser 2 not only provides the most novice-friendly experience in the entire industry, but also is different from other products that it's for novices but in fact shrinking and reducing, Aufero Laser 2 brings this product comes with top software and hardware and extremely outstanding performance. Combined with its starting price of just $269, it definitely has high cost performance. For beginners looking to buy a laser engraver, the Aufero Laser 2 is the perfect choice.
In fact, as a leader in the laser engraving machine industry, ORTUR has always represented the industry's top technology and excellent products.So it becomes the first brand recommended by LaserGRBL.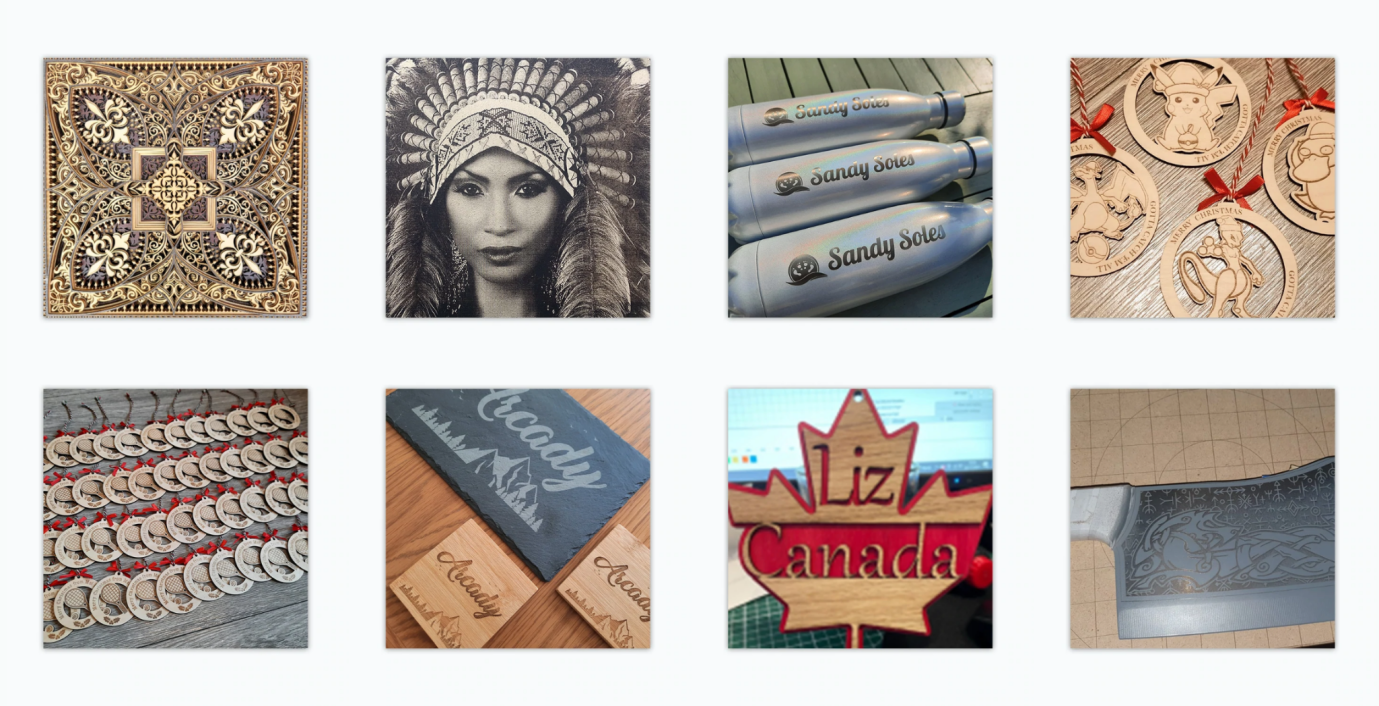 However, compared to the high-end market and products it is good at, products like Aufero Laser 2 that have both excellent performance and friendly novice experience may have greater significance: let more people use laser engraving machines and transform more ideas into for extraordinary works.
Just like these meaningful stories from ORTUR users: "A coffee shop owner used an ORTUR laser engraver to create personalized advertisements and became famous among customers in big cities; a French wine estate owner used an ORTUR laser Engraved with memories that belong to each barrel of wine; a Hollywood filmmaker used an ORTUR laser engraver to customize a unique electric guitar memorabilia for his behind-the-scenes team; there's even an Italian gentleman in a restaurant use The steak with the words 'Marry Me' proposed successfully to his girlfriend." It is no doubt that more ordinary users will also use Aufero Laser 2 to create more outstanding works and beautiful stories...